So you want to customize some of your quiz/test settings, no problem! We're going to walk you through how to do this. For this example, we're going to change the number of attempts.
In your LMS, click on the StudyForge quiz/test where you want to make the change. It will take you to the Current Group Settings Activity Report page.
Click Edit Settings.
Here are all the settings you can customize, such as Maximum Number of Attempts and Time Limit.

There are 3 levels where you can edit settings.
School Wide
Class Wide
Individual Student
Teachers have permission to edit class-wide and individual student settings.

If you think you should have school-wide permissions, please email support@studyforge.net to make that request.
To edit settings for an individual student, click the plus icon on the far right of the page.


This will show a drop-down menu of all the students in the class/group.
Select the student you want to edit settings for.

To make edits school-wide or class-wide select the column level you want to edit. For this article, we are making the change class-wide (Calculus).
Click the setting (Maximum Number of Attempts) you want to edit in the test/quiz.

This screen is where changes are made. In this instance, we are changing the number of attempts from 2 to 3.
1. Uncheck the Use default box.
2. Use the arrows to increase/decrease the number of attempts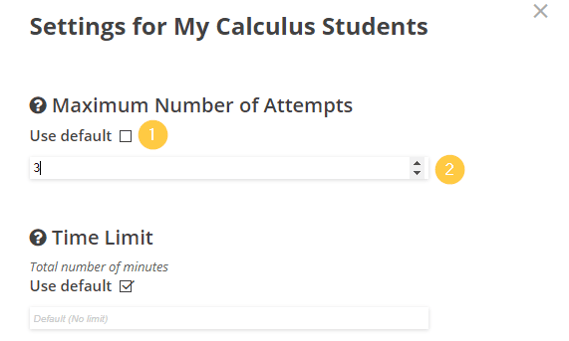 3. Scroll down and click the Close button.

You can see the attempts have changed from 2 to 3.
Click Save.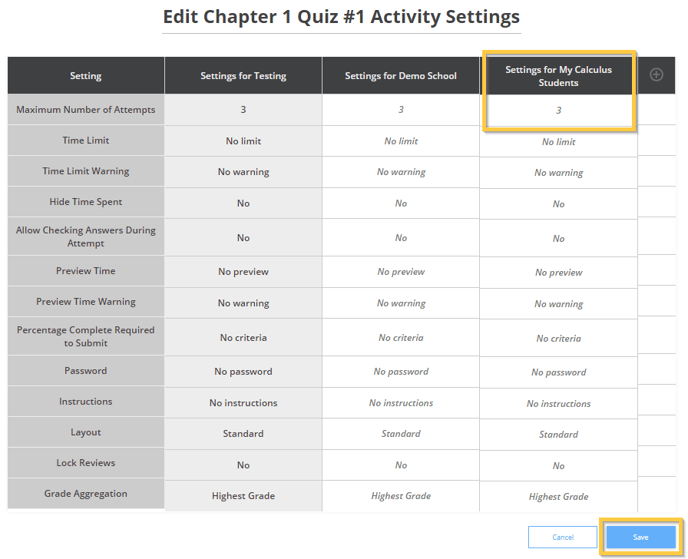 Follow the same instructions to change Time Limit or any other setting.
Now you can tell your student, you've given them one more shot...they'd better go do those practice questions before they try again 💻!